Folks who claim to hate "big government" are sure to be outraged and out holding tea party protests about this increase in the size of the federal government, I bet!

Just like they were livid when, back in March, the press reported that 7 in 10 arms programs were over budget, and when it was announced the Pentagon intended to add 20,000 more jobs onto the government payroll. Remember the round of denunciations over that on FOX News, from Newt Gingrich, etc., because that would make the government larger, while conservatives believe in "limited government"?

I don't remember it, either.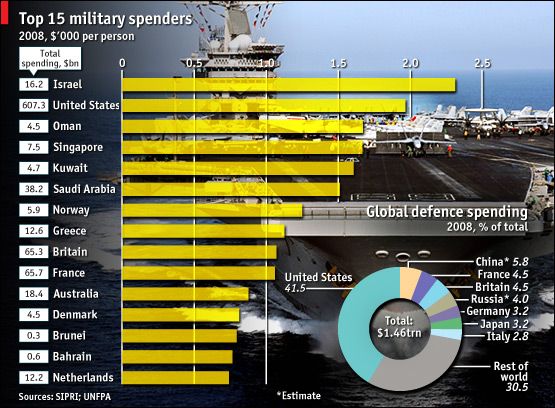 Arming up

Jun 8th 2009
From Economist.com

The world's biggest military spenders by population

GLOBAL military expenditure rose by 4% in 2008 to a record $1.46 trillion, according to a new report by the Stockholm International Peace Research Institute. Israel spends most on defence relative to its population, shelling out over $2,300 a person, over $300 more than America. Small and rich countries, and notably Gulf states, feature prominently by this measure. Saudi Arabia ranks ninth in absolute spending, but sixth by population. China has increased spending by 10% to $85 billion to become the world's second largest spender. But it is still dwarfed by America, whose outlay of $607 billion is higher than that of the next 14 biggest spenders combined.